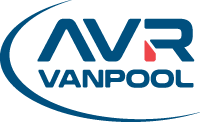 AVR Vanpool's mission is to make commuting easy and efficient for everyone.
AVR Vanpool is now a part of the vanpooling community!
For 12 years, AVR Van Rental has specialized in daily rentals of passenger vans. AVR was founded on a need to make van rental safe and affordable. We are proud to announce we are bringing the same mentality to vanpool! We have partnered with industry experts to put together a vanpool program to help commuters throughout Southern California, and beyond!
A vanpool is made of 5 to 15 passengers who come together to commute every day. By utilizing the same vehicle, vanpool members will save wear on their personal vehicles, save time, save money, and make a positive impact to their environment by easing congestion and reducing emissions. AVR recognizes the need for commuters to have consistency in their van. AVR is committed to ensuring all riders have a pleasant experience.
AVR Vanpool will provide high quality vans and ensure vanpool members experience a smooth process during the life of the vanpool. Imagine having the opportunity to prepare for work every morning during your commute or unwind on your way home. This is what vanpool is all about.
Please fill out the contact sheet below and our vanpool coordinators will reach out to you. You can also call us at 833-AVR-POOL(287-7665)